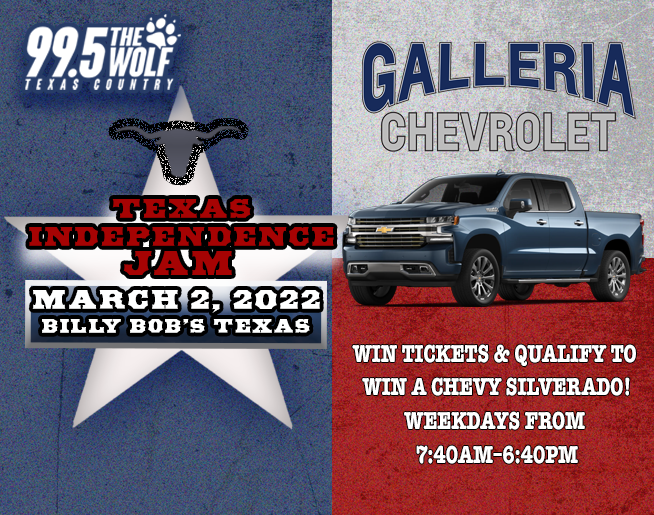 BUY YOUR TEXAS INDEPENDENCE JAM TICKETS HERE
99.5 The Wolf is excited to bring you Texas Independence Jam, presented by CC Carpet! This unique event will feature 10 Country Stars on 1 Legendary Stage.
It's all going down Wednesday, March 2 at Billy Bob's Texas featuring: Jon Pardi, Parker McCollum, Clay Walker, Maren Morris, Ryan Hurd, Scotty McCreery, Carly Pearce, Priscilla Block, Drew Parker, and one surprise star to be revealed at the show!
We are so excited about this that we are giving you 12 chances to win tickets every weekday up until the show. Plus, we've partnered with Galleria Chevrolet to give away a 2022 Chevy Silverado at the show!
Listen to 99.5 The Wolf each weekday, January 6 – February 25, for your hourly opportunity to call 888-787-1995 to win a pair of general admission tickets to Texas Independence Jam and get instantly qualified for the chance to participate in the Grand Prize Truck Giveaway at the show! You'll have the chance to call in and win every hour, at :40 after, from 7:40am until 6:40pm.
Plus, we'll be hosting four Saturday events at Galleria Chevrolet giving away more tickets and chances to get qualified for the Grand Prize Truck Giveaway:
January 8, January 15, February 12, and February 26th.
The 99.5 The Wolf street team will be at Galleria Chevrolet on each of those dates from 2pm-4pm registering you to win. Ten winners will be selected at each event.
On February 28th, we'll randomly select 10 finalists to join us on stage at Texas Independence Jam – One of those 10 Wolf Listeners will leave Billy Bob's Texas that night the owner of a brand new 2022 Chevy Silverado, from our friends at Galleria Chevrolet!