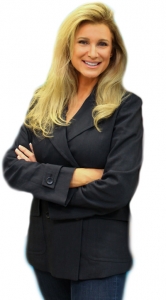 Lisa Taylor joined the Wake Up With the Wolf Show  from  LA back in 2007, after spending 15 years in New York City, and has fallen in love with the Lone Star State.
While most North Texans are in their deepest sleep,  Lisa embraces her 2 am alarm.  "There's just something about being the first one down the highway on my way to the station…each day is just FILLED with possibilities!"  She's been a proud CASA volunteer, giving at-risk kids a voice in court, is a United Way volunteer and  has been a proud advocate of Dallas Komen since 2009.  When she's not on the radio waking up DFW, you'll find her in a Texas town she loves meeting listeners and giving away prizes.
Lisa is a proud Collin County resident, embracing the suburban life with her two dogs; a perfectly round Pug named "Butter", and a lovely senior rescue Weimaraner from Weim-Rescue of Texas, named "Miley"! 
Follow Lisa on twitter @wolflisataylor, Instagram at lisatayloronair, or email her at lisa@995thewolf.com.  Give her a call some weekday morning on 99.5 the Wolf at 888-787-1995.