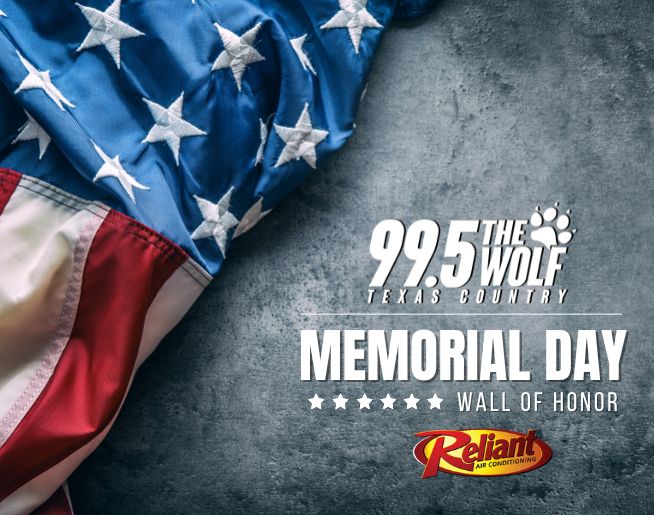 This Memorial Day we would like to Honor all those who have sacrificed their lives fighting for our country and to help keep our country safe.
The Memorial Day Honor Wall is your chance to send a special thank you to a Military person in your life for all they have sacrificed for us and our country.
Click the button below and submit a special message from you to that brave person.
Please allow two business days for your message to appear on this page.
Mervis and Justin Davidson
Thank you for sacrificing everything you have in order to protect our country. I love and miss you Papa. I love you Dad.
My Beloved husband, I thank you for your service in the US Navy for 10 years. I miss you each and every day!
S/Sgt. William Bernard Wilson
Thank you for preserving our freedom. Wish I could have known you.
We love you and miss you everyday brother. We will never forget your sacrifice for our country and the amazing NCO, Soldier, MENTOR and Brother, husband and son you were. You will live on forever brother through the stories and memories we have of you. Till Valhalla.
My uncle Kirk was a pilot of a B1 that crashed in September 1997. 4 crew members and HEROS were lost that day! Kirk was and will always be my hero, his legacy has carried on through his wife, kids, grandkids, brother, nieces and nephews! FLY HIGH KIRK and we know we will see you again! The hurt never goes away, but your love has and will carry us through! In loving memory of Major Kirk Cakerice and the crew of FURY 02/ flight 078
US Army, killed in Vietnam 4/4/1968. Uncle Bud, I wish I would have known you but you gone before I was born. I grew up hearing stories about you from the family. You will be forever missed but not forgotten. Thank you for your service to our country.