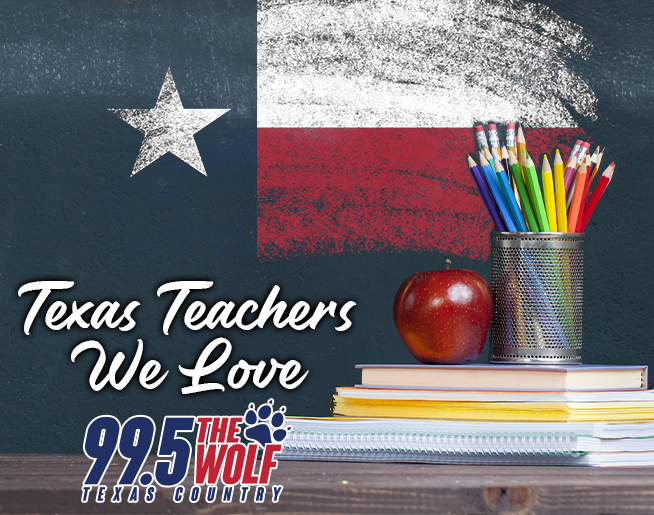 Thank you for stopping by to help out our wonderful teachers in DFW with supplies to help their awesome kids have a great year learning. The past few years have been very taxing on everyone and with your help we can impact all of these classrooms. Please click on as many lists and many teachers as you can. Every little bit helps! Texans helping Texans is a beautiful thing.
– Tara, Smokey, Jason and all of 99.5 The Wolf
To submit your Teacher Amazon Wish List – CLICK HERE – To check out submitted Texas Teachers We Love Lists, click each name below and you'll be directed to their list! Thank YOU for helping!
Meagan J – Dallas, TX – Cleveland Elementary
First year teacher! I will be teaching Special Education Kindergarten-3rd grade! So excited for my first year and ready to make a difference!
Patti S – Fort Worth, TX – Daggett Montessori FWISD
I am a 4/5 grade teacher in a Montessori program. I have taught for 29 years in several grade levels. I am moving to a new classroom this year in my same building and need to refresh some items. Thank you for considering helping with my list.
Khammay E – Duncanville, TX – Daniel Intermediate
I am going into my 6th year teaching 6th grade math at Daniel Intermediate. I actually graduated from Duncanville many years ago and really enjoy giving back to this community. 6th grade math unlocks many of the skills students will need in math throughout middle school and high school. Thank you for helping me make our math class engaging for my students.
Lindsay C – Argyle, TX – Liberty Christian School
I am a 12th grade English teacher. As a 13 year teaching veteran, I am constantly looking for ways to update my classroom and looking for new texts to read that students can connect with. I would love any help you can give me in preparing for the upcoming school year. Thank you!
Cindy L – Dallas, TX – Tega Clay Elementary
I have a love for teaching and I am so excited to create a classroom library for my kiddos!
Jessica A – Fort Worth, TX – Parkview Elementary
I am Special Education Teacher, this will be my 3rd year of teaching but my 1st year in Keller ISD! #SPED
Michael H – Arlington, TX – Charles Junior High
I'm a fourth year teacher as we have navigated education through these post COVID days it sure has changed the norm in our classrooms. I love teaching my students about world geography.
Crystal Z – Grand Prairie, TX – Grand Prairie High School
I am part of the CTE (Career & Technical Education) cluster at Grand Prairie High School. Our focus is to teach students skills to help them get jobs in the industry right out of high school. I served the city of Grand Prairie as a police officer for 15 years. I now have the privilege of teaching law enforcement at our high school. My class is very hands on. The students go through a 4 year program that ends with an internship at Grand Prairie PD. Many of our students end up working as dispatchers and detention officers after graduation!
Magdalyn C – Fort Worth, TX – J.P. Elder Middle School
My name is Magdalyn Carroll and I'm a 8th grade science teacher on the north side of Fort Worth at JP Elder I returned back to the classroom 5 years ago after working down town for 8 years and prior to that 5+ at Kirkpatrick middle school . The north side has a special place in my heart! I'm needing assistance or social media platform to actually post my teacher wish list. Yes I know your thinking Facebook, Instagram … well I personally don't have them , yes I know funny yet crazy in this day in age! I do have snap chat ( because of my daughter) I like to say I'm a vintage mom! Last year I learned about Amazon wish list ( don't laugh to hard) from my younger teachers that I mentor, I was amazed at the level of generosity that I witness that they received! I though I would make a Amazon teacher wish list myself so I did! Well not realizing I have zero social media I asked my mom to post on her Facebook. She did, in doing that I received one item , I was very surprised and appreciative! This year I updated my list (still no social media platform) and I figured I would give this a shot!!!!!
Andrea B – Granbury, TX – Nettie Baccus Elementary
I'm an art teacher for K-5th. Some of our students come from low to no-income families that are struggling in difficult situations. I'm trying so hard to make our art room a fun and safe place for them to learn. Here is my teacher wishlist. I'm making a book corner in my room this year. I tried to find a bunch of different types of books, so there is something for everyone – – and a few favorites from my childhood. If you see a book you love I can guarantee a student out there would too ❤️
Maria B – Dallas, TX – Dan D. Rodgers Elementary
Dear amazing people, My name is Maria, and I work as a 2nd-grade bilingual teacher at Dan D Rogers Elementary school. My school is a little unique place inside the Dallas ISD district, where joy, love, and lots of learning opportunities happen daily. Besides having lots of dedicated teachers and outstanding students with supportive families. However, resources are limited and in order to make teaching innovative and fun I would love to ask for your support. I hold a master's degree in Educational technology and an MIT certificate in Product Design. My teaching methodology is based on Authentic Assessments, personalized learning, and a critical thinking-design thinking approach. That is why I need your help. Design thinking and teaching students problem-solving skills are proven to equip them with the toolbelt to become creative, innovative citizens with high social-emotional learning skills that prevent them from getting easily frustrated. As you know already, this isn't something easy to accomplish. However, I carefully selected each of these items to make sure students in my class and beyond can have fun while learning these 2.0 skills. You can have a big impact on the next generation of leaders by giving them the necessary resources to escalate public education to the next level. I commit to making the best use of every single item bought and keeping them in shape for years to come. I am leaving my work email here for you to send me any questions, or for you to email me in case you buy an item from my list, and you wish to see some pictures of how is being used. Thank you in advance for your support and generosity. Let's make education and school a fun and safe place to be. Maria M Bofi
Ines S – Dallas, TX – Dan D. Rodgers Elementary
I started teaching back in 2006, and I am still a passionate educator who loves to teach and make a difference for her students!!
Jackelyn A – Wylie, TX – First Methodist Preschool
Preschool teacher who truly loves and enjoys working with children of all ages. Cannot wait to return in August and meet our new friends and learn something new each day.
Alexandra H – Seagoville, TX – Thelma Richardson Elementary
Hello! I am a 2022 graduate from Texas Tech University. I was in the medical field for the last 11 years and finally decided to follow my dreams to become an educator. I will be teaching 5th grade Math at Thelma Richardson Elementary. I will have 3 classes with about 60 students. I am so excited to get started in my very first classroom.
Meagan M – Dallas, TX – Trinity Basin Elementary
I'm a second grade teacher at low income school Every little bit helps!
Brianna M – Dallas, TX – Nancy Cochran Elementary
My name is Brianna M and I am a teacher at a Title 1 School in DISD. This will be my 7th year being a teacher, however this will be my first year teaching 4th grade (a STAAR grade level). I want to create a calming environment for my students because testing can get very stressful!
Lakiesha – Mesquite, TX – Trinity Basin Elementary
I'm going into my first year as a 6th grade social studies teacher. I need completely new materials and supplies to help my students prosper. I'm working on gathering supplies to support that skill development and to create a welcoming environment for them. I can't do it without your support. Please help out by making a purchase off of my Amazon.com wish list #clearthelist📝. Thanks in advance for supporting the education of our future.
Brittany G – Aubrey, TX – Prestwick Elementary
This will be my 7th year teaching as well as my first year at a new campus! My family just recently moved to Aubrey after building a house and welcoming our first son in March (both on the same week). We have had many changes this year and adding moving to a new school and district on top of it. I love teaching and I wouldn't trade my job for anything! This year juggling everything, the move and adjusting to life as a mom has been interesting. The classroom is where I belong and my happy place, just working on work home life balance. Any way you could help my future students in our classroom would be much appreciated! 🙂
Brittani G – Allen, TX – Prestwick Elementary
I am entering my 7th year in education as a teacher, but this will be a year full of a lot of "new" for me. I switching to a new grade level, at a new school in a new district. This year I will be teaching 2nd Grade in Little Em ISD. I have previously taught 1st Grade in California and Pre-K 3 year olds in Richardson ISD. With this change in grade level, I am in need of classroom materials to support the learning experiences for my new second grade students. I look forward to serving my second grade students in the Little Elm community this year!
Shelly M – Mansfield, TX – Mary Jo Sheppard Elementary
I am a wife, mom, and teacher! I work with struggling readers and students with Dyslexia.
Toni M – Colleyville, TX – Stonegate Elementary
Greetings and Salutations! I have been teaching Kindergarten for 27 years at a Title 1 school. I have the best job! I'm greeted everyday with a hug and a smile AND I can easily resolve most "on site" conflicts with a sticker and a hug!! Trying to transition my classroom to fun flexible seating. Looking forward to another great year with my wee ones that will possibly, one day, solve the world's problems !! Thanks for taking the time to think about a teacher!!
Caitlin R – Fort Worth, TX – Fossil Hill Elementary
I have been listening to the station for as long as I can remember, and love everything about country music! This will be my 7th year teaching in various Title 1 schools around the metroplex and would do just about anything to make sure my students have the most successful year possible.
Kylie M – Dallas, TX – McDonald Middle School
I teach several different classes, all Career and Technical Education. The purpose of CTE courses is to help students develop both soft and hard skills for the job market, and to guide students in finding career paths that fit their current and future interests, goals, and financial needs.
Kim T – Dallas, TX – Northlake Elementary
I am an ART, STEAM and Reading Teacher in a Title 1 school in Dallas Texas. I need some help with extras that our budgets do not cover. These are a few supplies for the room; and extra books that are amazing content for our kids!
Lesly G – Addison – Dale B. Davis Elementary
Hello! I'm blessed to say this will be my third year teaching art to my sweet little artists at Davis! Teaching at a Title I school many students have never been exposed to the art world or creating art. My class is a place for them to express themselves in a safe and creative manner. I've created our Amazon Wish List for this year. If you feel moved to help support our art program it would greatly be appreciated. Thank you!
Kimberley M – Fort Worth – Sunset Valley Elementary
Hello! I'm blessed to say this will be my third year teaching art to my sweet little artists at Davis! Teaching at a Title I school many students have never been exposed to the art world or creating art. My class is a place for them to express themselves in a safe and creative manner. I've created our Amazon Wish List for this year. If you feel moved to help support our art program it would greatly be appreciated. Thank you!
Danyalle S – Scurry, TX – Scurry-Rosser Middle School
I'm going into my 13th year teaching 4th-grade! I teach Texas history and writing and love watching my kids learn, grown, and develop a passion for learning.
Maricela E – Rowlett, TX
Hey guys, I'll be starting my first year of teaching in a few weeks! I'm super excited and nervous for this next chapter in my life and would greatly appreciate any help to get me started on this new journey 🙂
Kelly D – Arlington, TX – Butler Elementary
I am an instructional coach this year. I work with teachers on curriculum, while helping them set and reach goals. I also meet with small groups of students when needed for interventions. I have been a teacher for 24 years and am looking forward to creating an environment for my teachers to meet as a team, have data meetings, PLC meetings, or just a space for community. I want it to be a place that teachers enjoy coming to when they need to work collaboratively on lesson plans or just to have coffee and chocolate to take a break from the day. I love being an educator and giving everything I have to little learners and their teachers.
Mary G – Dallas, TX
Hi there! My name is Mary and I teach Special Education grades 6-8 for students with moderate to severe special needs. More than three‑quarters of students are from low‑income households.
Casey W – Azle, TX – Azle Elementary
I'm a 5th grade math teacher teaching in my amazing city of Azle! I'm looking for any relief that you could provide me. I spend about $500-600 a year on our kids, including any of my birthday and Christmas money I get from relatives and would love to have some support this year! Any help is truly appreciated! Thank you!
Sarah J – Mansfield, TX – Mansfield Elementary
I am coming back to the classroom after 6 years of being a stay-at-home mom to my six kids. I want my classroom to be a place where students enjoy learning and a place they look forward to coming to every day.
KeAndra M – Dallas, TX – Hastings Elementary
I am KeAndra and I teach second grade at Hastings. My school just because a STEAM academy and we are starting with second grade. I have a great passion for teaching and I want to cultivate a classroom that grows my students in every way.
Damita F – Grand Prairie, TX – Bonham Early Education School
I am going into year 10 teaching severe and medically fragile pre-k and kindergarten students. I love my job and the students and families I serve so much! The best feeling in the world is helping kids to do things that no one ever thought that they could so and helping parents to believe the sky is the limit for their babies!
Jamie C – Frisco, TX – Ashley Elementary
I am going into my 2nd year as a Sped teacher. I absolutely love my job and my kids! I would appreciate any help anyone can give!
Amy G – Eustace, TX – Eustace Primary
13th year teaching at Eustace Primary- teaching Kindergarten
Blanca A – Dallas, TX – Hanes Elementary
I am a Bilingual First Grade Teacher. I am starting my 12th year of teaching. Even though I been working for other schools at a young age. I started as a volunteer and then a paraprofessional before becoming a teacher. I enjoy working with my kiddos and seeing them grow throughout the school year. Thank you in advance for all your support.
Crystal P – Fort Worth, TX – Haltom High School
I work in US History with SPED students assuring they get their modifications, accommodations in a general education setting with their peers. Ot truly is a gift to see SPED students pass their STARR in a tested area. My job consists of so much paperwork, anything helps.
Hallie S – Cleburne, TX – Smith Middle School
I am going into my second year teaching 6th grade math. I love math, Disney, reading and being outside. I especially love all my students that walk through my door and love that they feel safe in my room!
Tabitha S – Fort Worth, TX – Harmony Science Academy
First year teacher teaching second grade!
Sarah A – Fort Worth, TX – Clara Love Elementary
Hi there! I'm starting my tenth year of teaching at a new school in a new position. I will be a Dyslexia Specialist! I am so excited to start this new adventure. I added some things to help my students and to make learning more hands on. Thank you so much for your support! It means the world to me and my students! 🥰
Tammie M – Midlothian, TX – T E Baxter Elementary
I've been teaching Kindergarten for 36 years all at the same district.
Melissa T – Arlington, TX – Swift Elementary
School Librarian
Danielle J – Mansfield, TX – Donna Shepard
I am a SPED teacher
Tori G – Princeton, TX – Valley Creek Elementary
I am going into my 9th year as a self contained special education teacher. I am excited to be part of such a wonderful team in McKinney and I look forward to watching my student succeed.
Jennifer R – Wills Point, TX – Earnest O Woods Intermediate
I have been teaching for 16 years. I currently teach special education resource/inclusion for 2nd grade. I love building relationships with my students.
Jessica T – Arlington, TX – Remynse Elementary
I teacher 6th grade math and science at a title one school. I just recently purchased a home and I am having stomach surgery so money is tight. I typically have to purchase supplies for my students because they do not have the money to purchase supplies. This would help me make sure my students have all of the things they need to be successful this school year.
Sarah R – Fort Worth, TX – The Academy at Carrie F. Thomas
This is my 4th year teaching Special Education Self Contained. I teach what most people consider Life Skills. This year I am excited to run a coffee cart so my students can learn job skills. I have an 8 yr old stepdaughter and 1.5 yr old son. With rising prices its hard to spend money on my classroom to create the environment I want. I have 3 paraprofessionals who are seriously underpaid and give their all for our students. In the past I've tried to spoil my parapro's to show my appreciation as well but like I mentioned… gas and food prices are crazy. We appreciate anything and no matter what I know we will have a great year!
Tiffany B – Palmer, TX – Palmer Elementary
I am entering my 7th year as a teacher. This year I will be at a new school teaching 4th grade math and science. I love giving my students a learning experience that is exciting and fun. I try to transform my room for different lessons to make a big impact on my students' learning.
Katie S – Kaufman, TX – Barbara Walker Elementary
This is my second year teaching, first year in Kindergarten! I am excited to meet my new students and have a fantastic year of fun and learning!