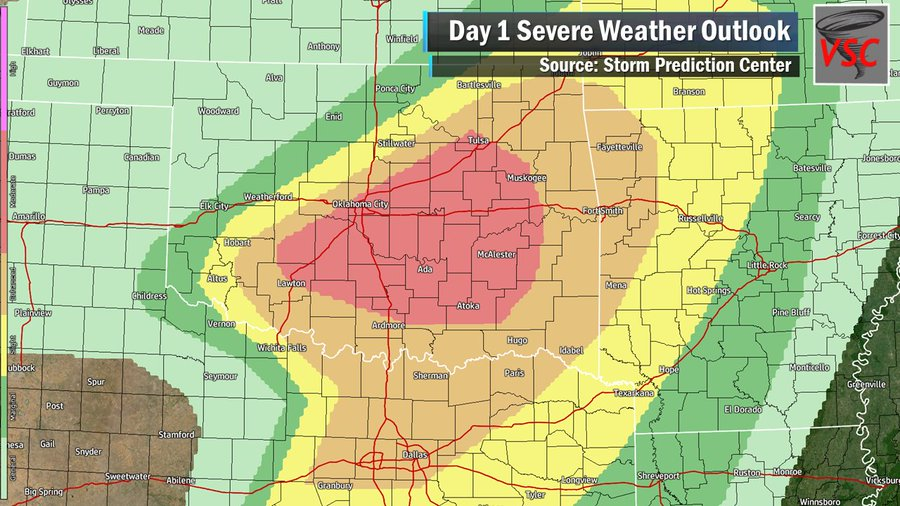 UPDATE: #TXWX NWS Surface Map for 1PM: Classic setup, with two surface lows, dryline and cold front. Ingredients all coming together for classic severe wx outbreak, nearing DFW area btwn 6 & 10 PM. Large hail, 60-70 mph winds, isolated tornadoes. Check w/ WBAP 820 and @BradBartonDFW
DFW is in the southernmost extent of an "Enhanced Risk" for severe weather between 8 Sunday evening and 12-1 Sunday morning. A powerful storm system, moving east of the Rockies today, will generate two surface lows, a dryline and a cold front at the surface. Meanwhile, low pressure aloft will generate ample lift in the upper atmosphere, along with cyclonic circulation, to set off isolated supercell thunderstorms northwest of DFW this Sunday afternoon.
North Texas can expect either a Severe Thunderstorm Watch or a Tornado Watch to be issued between 4 and 6 P.M., lasting through midnight Monday morning. Warnings in the western counties of Palo Pinto, Young and Jack counties are likely to be triggered early in the watch. DFW can expect the onset of high winds, large hail, torrential rain and possible tornadoes anytime between 7 P.M. and Midnight Monday.
WBAP is the Primary Emergency Alert Station for North Texas, broadcasting ALL Severe Thunderstorm, Flash Flood and Tornado warnings DFW and surrounding areas, 13 counties in all. To stay safe, please stay in touch with live local TV and Radio for the latest information on this serious ("3" on a scale of 1-5) potential storm event.

Also, follow Chief Meteorologist Brad Barton on Twitter @BradBartonDFW for short-range forecast models of predictive radar imagery and actual radar loops, direction, speed and warning-areas. Please try to be of the roads and under sturdy shelter by 7 this evening.

Finally, today, as soon as possible, prepare your home and family for power outages, high winds, broken glass, wind and hail-induced roof leaks, etc. Secure all lawn furniture and other outdoor items. Your best home shelter is a central closet, pantry (especially if under stairs) or central hallway in your home away from windows.