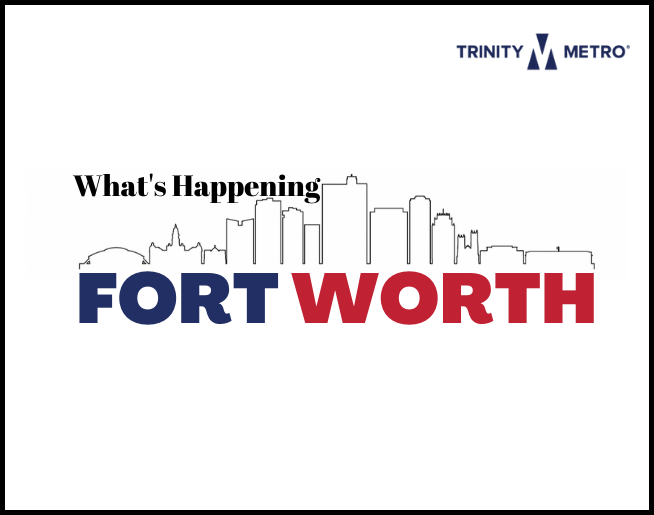 Want to know what is going on in Fort Worth? Each week, 99.5 The Wolf and Trinity Metro will let you know where the place is to be this weekend!
Check back each week as we update our What's Happening in Fort Worth page. Fort Worth is filled with fun events for the family, date nights and more!
Dec 8-10 in Fort Worth
Check out real Cowboys this weekend at the NCHA World Championship Futurity at Will Rogers. That's in Fort Worth's Cultural District
Over in Sundance Square, the annual production of The Nutcracker hits the Bass Performance Hall stage
And you can celebrate the holidays Stockyards Style in the Fort Worth Stockyards with music, ice skating, and tons of holiday cheer.
Close with Trinity Metro tag.
Whether by bus, TEXRail or ZIPZONE on demand, Trinity Metro can get you there. Find out how at ridetrinitymetro.org

Let Trinity Metro get you around Fort Worth this Weekend
Fort Worth Stockyards
Trinity Metro Bus Routes 12 Samuels/Mercantile Center and 15 Stockyards/North Main to Main & Exchange
Sundance Square
Trinity Metro TEXRail, Trinity Railway Express or a number of bus routes serving downtown Fort Worth and Fort Worth Central Station, including The Dash and Molly the Trolley.
Near Southside
Trinity Metro Bus Routes 1 Hemphill, 4 East Rosedale, 5 Evans/Sierra Vista and 6 8th Ave/McCart, plus Trinity Metro TEXRail, Trinity Railway Express and Southside ZIPZONE at Fort Worth T&P Station
Camp Bowie District
Trinity Metro Bus Route 2 Camp Bowie
Race Street
Trinity Metro Bus Routes 11 North Beach/Mercantile Center and 54 Riverside/Sylvania
Cultural District
The Dash, Trinity Metro Bus Route 53 University and Southside ZIPZONE
West 7th / Crockett Row
Trinity Metro Bus Routes 2 Camp Bowie, 52 Hulen, 53 University, The Dash, plus Southside ZIPZONE
Foundry District
Trinity Metro Bus Routes 52 Hulen and 53 University
CLICK HERE TO FIND OUT MORE ABOUT EVENTS IN FORT WORTH, TX