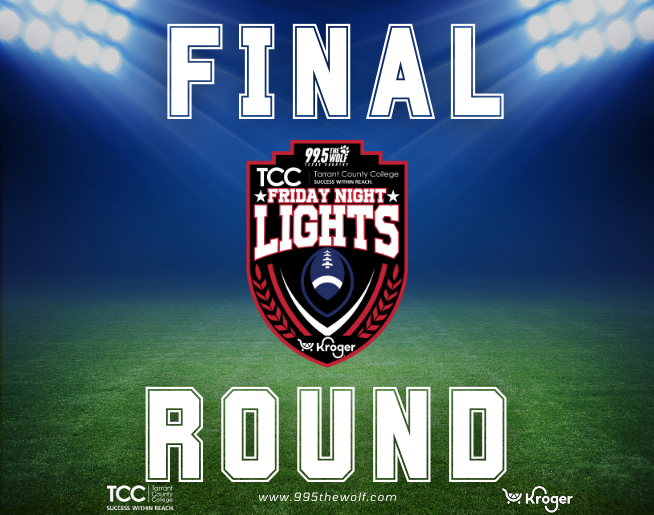 99.5 The Wolf presents FRIDAY NIGHT LIGHTS!
This year… 99.5 The Wolf, Kroger and Tarrant County College are embracing the "Everything is Bigger in Texas" attitude with Friday Night Lights! More schools, more votes, and more money!
This year, 32 schools throughout DFW will battle it out week-by-week online. The last school standing scores $2,500 for their schools Athletic Department… and claims the Title of Friday Night Lights Champion!
THE FINALS of Friday Night Lights kicks off on Monday, October 30 at 12pm – VOTE BELOW!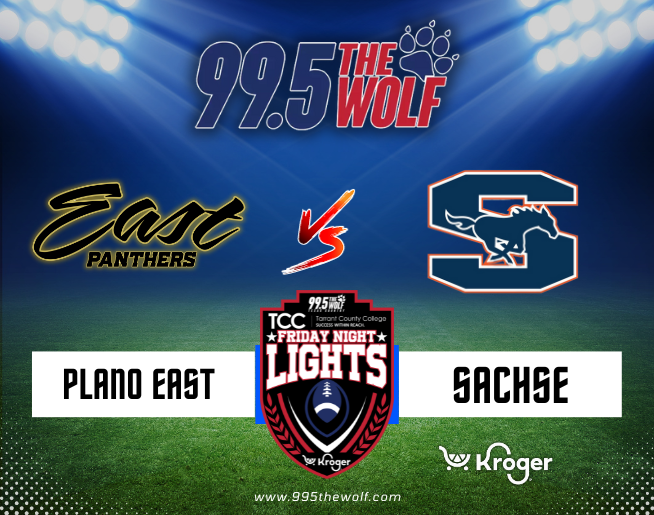 Plus, each week we will visit a new school and help cheer on the home and visiting team! Stop by the tent for some fun!
Please Note: Use of any automated system to cast any vote is prohibited and will result in disqualification of such votes. Votes generated by a script, macro or other mechanical, automated means will be disqualified. Station operates and certifies the voting system and reserves the right to disallow votes and/or disqualify votes for any reason, including, without limitation, if Station suspects that fraudulent votes have been cast or if Station determines, in its sole discretion, that there has been any attempt to manipulate or unfairly influence the result of the vote or otherwise violate the Official Rules. Only votes in compliance with these Official Rules will be valid. Station has final decision on all Contest and all voting matters.
Want another opportunity to win some extra cash for your high school?! Tara and Ryan Fox are ready to Turn It Up For Texas! The Wake Up With The Wolf show is looking for the best high school marching band in DFW!
The winning school each week will receive a $1,000 donation to their band! Think your band has what it takes? Post a video of your band on social media and tag @995TheWolfDFW, @KrogerDFW, and @GoodDayFox4 to nominate your marching band as the best in DFW!
For more information visit 995TheWolf.com/tara-and-ryan-fox-turn-it-up-for-texas