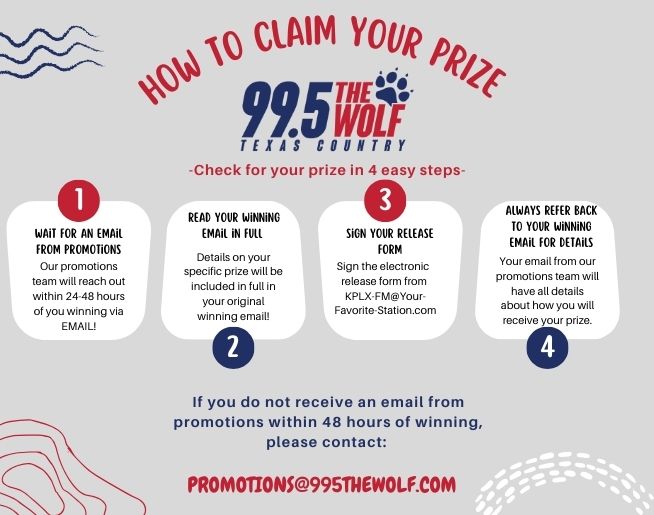 We're so happy to hear that you have won a prize from 99.5 The Wolf! We know the prize-winning process can be difficult to understand if you are not used to it, so we've put together a guideline to help you if you're ever in need.
99.5 The Wolf runs contesting via call-in-to-win, text, online, and so many more but the process of claiming your prize is always going to stay the same.
You should receive an email from the Promotions Department at 99.5 The Wolf within 24-48 business hours of winning. As everyone is human, sometimes our team may enter your email incorrectly in our system and for this reason you may not receive an email. If this is the case, and you have waited 48 business hours, please reach out to the Promotions Department by clicking on the button below!
Your winning email will list what you have won, the quantity that you will receive of your prize, and how your tickets must be claimed. Please read this email in full for all of the necessary details of your prize!
Keep in mind, the Promotions Department office hours are Monday-Friday from 8:30am-5:30pm barring any national holidays.
Some prizes must be picked up in our office and others can be sent electronically, it all depends on who we are receiving the tickets from.
Examples of Prizes that need to be picked up in our office: gift cards, State Fair tickets, bobbleheads, etc.
Most prizes relating to concerts, but not all, will be sent to you electronically via the venue in which the show is taking place. Please see the below breakdown for details on which ticketing system is used for each concert venue.
Dos Equis Pavilion – Ticketmaster/Dos Equis Pavilion
Dickies Arena – Ticketmaster/Dickies Arena
The Pavilion at Toyota Music Factory – Ticketmaster/The Pavilion at Toyota Music Factory
Texas Trust CU Theatre, The Factory, The Studio at The Factory – AXS.com
Texas Motor Speedway – Ticketmaster/Texas Motor Speedway
AT&T Stadium – Seat Geek or Ticketmaster
House of Blues, Tannahill's Tavern & Music Hall, American Airlines Center, South Side Ballroom, Globe Life Field, Will Rogers Auditorium, and the Music Hall at Fair Park – Ticketmaster
Billy Bob's Texas – All tickets won from the station can be picked up at will call the night of the show, with a valid photo ID by the person who won the tickets from the station.
If you do not see the venue in which your show/concert will take place, this means that the rules for that specific venue change and will be determined based on each individual prize. Please refer to your winning email for all details on your specific prizing.
There are some prizes that must be picked up in our office! This includes physical tickets to events like the State Fair of Texas, Screams Halloween Theme Park, Crayola Experience OR gift cards and certificates.
All physical prizing must be picked up in our office within 30 days of winning. If you arrive at the station after the 30 day window has passed, we will no longer have your prize available for pick up.
Prizes can be picked up Monday-Friday from 8:30am to 5:30pm at:
3090 Nowitzki Way Suite 400, Dallas, TX 75219
Please make sure you bring a valid photo ID to pick up your prize. We are right next to the American Airlines Center in Victory Park. There is plenty of parking across the street from the W Hotel in the South Victory 1 Parking Garage, which is right across from our building. Parking is free for 2 hours, but you will need to bring your parking ticket in to be validated at our front desk.
If you cannot make it to the office in person within 30 days and would like to send someone on your behalf to claim your prize they will need to bring three items with them:
A physical copy of your valid photo ID
A valid photo ID of their own
A letter written and signed by you giving that person permission to claim the prize on your behalf
Please Note: The station DOES NOT mail prizing to winners unless specifically noted in the contest. Please keep this in mind when entering contests as we cannot mail your prize to you, no matter how far you live from the station.
Please note all of these prizing details and reference your winning email before contacting [email protected]