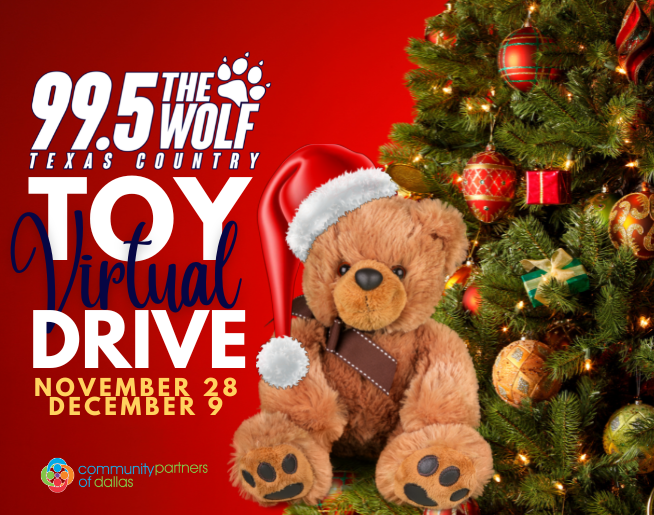 99.5 The Wolf has partnered with Community Partners of Dallas to provide the "Last Stop Holiday Shop" that will ensure no child is forgotten this holiday season! Help us by collecting as many toys as possible! The official start date is November 28 – but if you'd like to get your shopping done early don't let us stop you! All the information you need to know is below!
The toys that are collected will be used for any children who still needs a gift (after the wish process, they may have come into protective care after the deadline to submit wish cards, or perhaps their wish did not get filled). The "Last Stop Holiday Shop" will ensure that no child is forgotten this holiday season.
These toys will be used for children in the protective care of CPS to ensure that no child is forgotten this holiday season. With our help thousands of children will each receive two gifts and experience the magic of this wonderful time of the year!
How to Buy a Toy in the Last Stop Holiday Show Virtual Toy Drive:
Thank you so much for purchasing toys and bringing holiday joy for Dallas County's abused and neglected children! By purchasing toys from our Virtual Toy Drive below, you are ensuring that children in the care of Child Protective Services have something that brings them joy and puts a smile on their face during this special time of year. Every child deserves to know that they are valued and loved. Thank you for sending them that message this holiday season!
OR – if you have already done some holiday shopping, you can drop off a new/unused Toy at our offices in Victory Park!
3090 Nowitzki Avenue, Suite 400, Dallas, TX 75219
Be sure input KPLX or WOLF into the Group Name Section at Checkout!