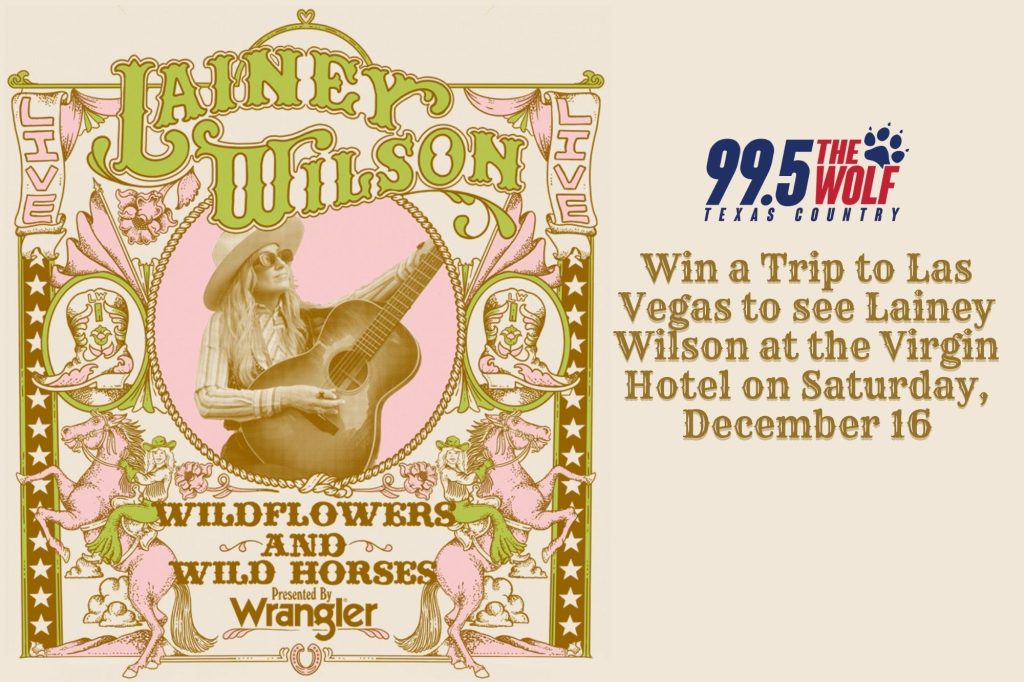 YOU'VE BEEN CHOSEN! We want to thank you for listening to 99.5 The Wolf with a new secret contest. One (1) lucky winner will win a trip for two (2) to see Lainey Wilson at The Theater at Virgin Hotels on December 16th! 
Our goal is simple, to get you to listen more to 99.5 The Wolf, where we play timeless TEXAS COUNTRY from George, Kenny, Garth, Faith, Blake, Keith, Luke, Carrie, Morgan and so many more, everyday right in DFW. The more you listen, the more chances you have to WIN! There are 12 CHANCES to play every weekday.
Here's How To Play
LISTEN:
Tune into 99.5 The Wolf Monday through Friday at :05 minutes after the hour from 7:05am to 6:05pm through Friday, September 1, 2023.
PLAY:
Listen for us to shout out [a town near you]. When you hear it, you can either text the city name to [888-787-1995] every hour for a chance to win OR you can enter that hour's city on this page (the form is below)! There are 12 CHANCES TO ENTER every weekday! Example: "We love our listeners in [Arlington]! ARLINGTON IS A TEXAS TOWN WE LOVE! Thanks for listening to 99.5 The Wolf.
WIN:
Two (2) tickets to Lainey Wilson at The Theater at Virgin Hotels in Las Vegas, NV on December 16, 2023, roundtrip airfare from Dallas, TX to Las Vegas, NV departing December 15, 2023 and returning December 17, 2023, and two (2) night hotel stay at Virgin Hotel in Las Vegas, NV December 15-16, 2023. The winner will be announced on Monday, October 9, 2023, and that WINNER could be YOU!
The Wolf's Golden Ticket – Online Entry Option
Secret Contest
Enter Our Secret Contest!
About Us: 99.5 The Wolf is TEXAS COUNTRY!
The world-famous Wolf plays country's BIGGEST stars from George Strait to Miranda Lambert, from Clint Black to Kenny Chesney, and from Jason Aldean to Shania Twain. 99.5 The Wolf sounds like Texas! We'd love for you to start your day with The All-New Wake Up with The Wolf Morning Show on weekdays from 5 am – 10am.
Full Contest Rules Are Here
For a complete set of rules, visit www.995thewolf.com/secretcontestrules